Letter From the Principal
Hello, and welcome to our St. Charles Borromeo Catholic School website!  More importantly, thank you for your interest in our school.  My hope is that if you are considering St. Charles for your family that you will take a moment to contact me, or a member of our staff, so that we may be able to personally meet you and answer any questions that you may have.
Just a little history – our school was founded in the fall of 1958 under the direction of our first Pastor, then Father, and later Monsignor Edward Hession.  Under his loving direction, and with the dedicated assistance of the Franciscan Sisters of the Sacred Heart, and of course adding the enthusiasm of parishioners and friends, our school blossomed from a small seed into a giant tree in the decades that followed.  From humble beginnings, we grew into one of the largest parishes and schools in the Diocese of Fort Wayne – South Bend, and we remain so today.
Our current Pastor, Father Tom Schoemaker, came to us in the fall of 2016.  Father Tom is only our third Pastor in the sixty years of our existence as a Parish.  Obviously, this stable leadership has positively affected the growth and success of our Parish and our school.  We are thankful for the vision and the wisdom both Pastors have demonstrated. 
Today, our campus houses over 750 students in PreK through 8th grade.  Our school is accredited by both the State of Indiana and nationally by AdvancEd.  We have a reputation of graduating students who are well rounded academically, physically, and spiritually, and who are prepared to meet the challenges of high school. 
In addition to sound curricular offerings, our Fine Arts and Athletic Programs further offer students broad opportunities for participation, education, and development.  The success of these programs is a credit to our instructors and parent volunteers who work so effectively with our young people. Also, we do have a strong and visionary School Board, and an organized and effective Home And School Association (HASA), both of which help to involve parents and parishioners, build community, and work to further the best interests of students, parents, teachers, and staff.  
Finally, and most importantly, we are a Christ-centered Catholic School faithful to the Church and to the development of the souls of our young and old alike.  The Holy Spirit is with us, and we embrace our Catholic faith every day.  Our Catholic identity, much like St. Peter, is the rock upon which our school is built.  St. Charles Borromeo, pray for us!
In closing, there is more to see and ask about.  We are not perfect, but we do try hard to provide a safe and caring environment in which young people can openly smile, pray, be challenged, and grow in their love of neighbor, knowledge, and most fully, God. 
Please feel free to make a contact with me, or someone on our staff.  I thank you for taking the time to read this letter, and I hope you have a blessed day.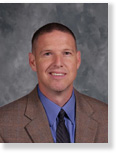 Rob Sordelet, Principal